Are you tired of hearing your students say, "I don't know how to write a descriptive paragraph!"? If so, you're not alone! Writing compelling descriptions can be one of the most challenging parts for teachers and students.
But it doesn't have to be so tricky! With suitable examples and guidance, anyone can become an expert in vividly describing people, places, things or events. In this blog post, I will provide twenty stellar examples you can use as models for teaching your students how to write compelling descriptive paragraphs.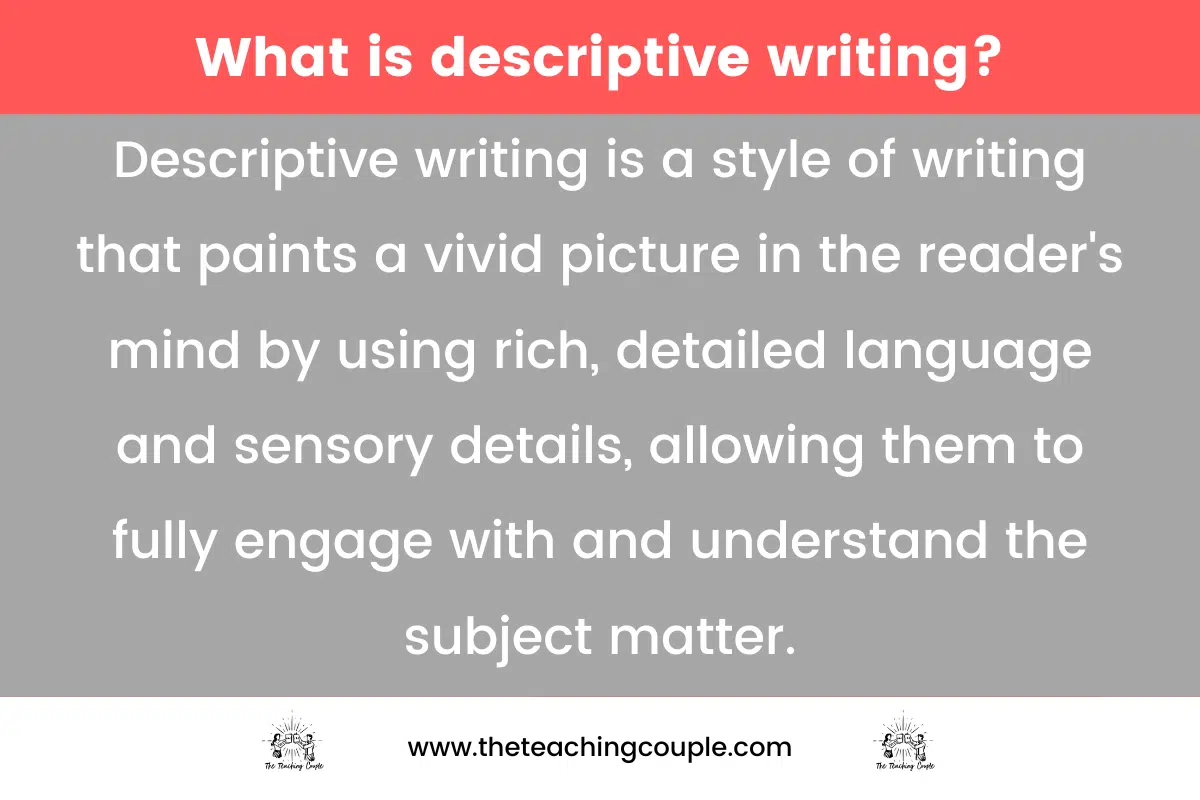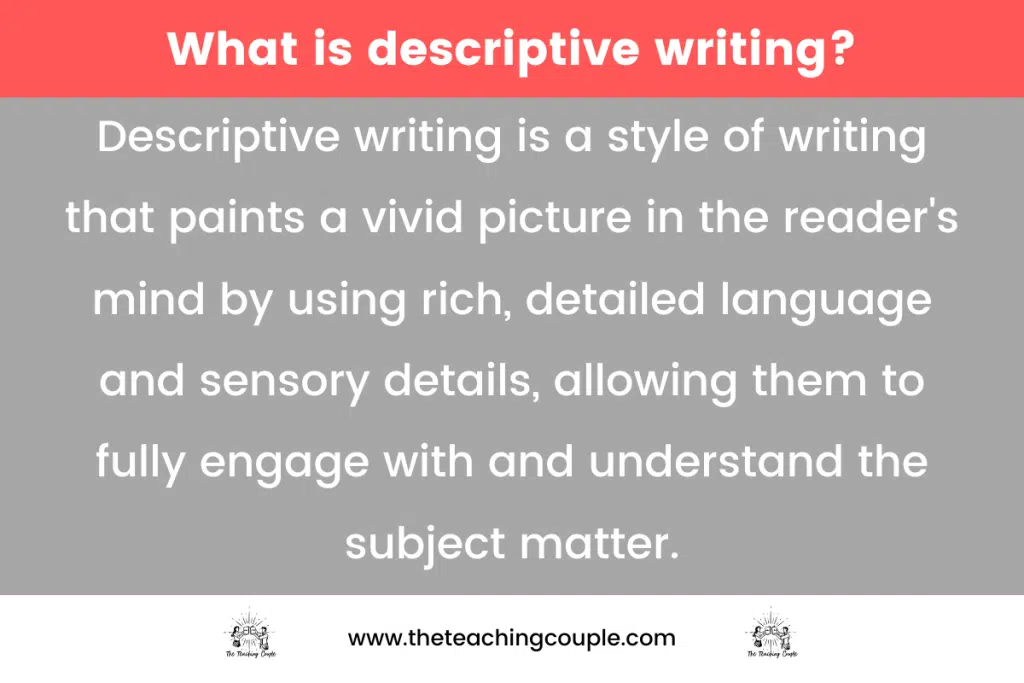 According to Grammarly, descriptive writing can enhance any type of content, from an essay describing a historical event to a blog post narrating a personal experience.
IUP's Writing Center further explains that effective descriptive writing evokes sights, smells, sounds, textures, and tastes, immersing readers in the narrative. But how does one master this craft?
Study.com provides a comprehensive lesson on the techniques and examples of descriptive writing, while LanguageTool offers insights into the illustrative writing style. narratives.
Descriptive Paragraph Example 1:
The sun-kissed beach was a veritable haven. Soft, white sand stretched lazily from one end of the coastline to the other, inviting visitors to take off their shoes and dip their toes in the cool water.
Warm sunshine beat down on my skin as I walked along the smooth shoreline, enjoying the salty ocean breeze that greeted me with each step. In the distance, I could see boats anchored in the harbour, their masts swaying gracefully with the rhythm of the waves.
Descriptive Paragraph Example 2:
The older man shuffled slowly down the dirt road, a faded baseball cap pulled low over his eyes to shield them from the sun's rays. He wore overalls and a flannel shirt, his hands calloused from years of hard work in the fields.
His face was craggy but kind- a life filled with stories hidden beneath the wrinkles that framed his eyes. I watched him as he walked, his steps light despite the weight of all he had seen.
Descriptive Paragraph Example 3:
The bustling city street was a melting pot of cultures, languages, and flavours. As eager shoppers stopped to examine their wares, merchants called out from their booths. Everywhere I looked, people were walking, talking, laughing- the occasional honk of a car horn punctuating the air.
The smells were a mix of mouthwatering cuisine from dozens of countries, the sound of different languages intermingling as the conversation drifted through the air.
Descriptive Paragraph Example 4:
The lush meadow was blanketed in soft green grass, punctuated with wildflowers in all rainbow colours. The sun shone brightly in the sky, warming everything beneath it with its gentle rays. In the distance, a stream babbled peacefully as birds chirped their songs from the trees that lined it.
The air was heavy with the sweet scent of honey, and I closed my eyes to take in all of its beauty.
Descriptive Paragraph Example 5:
The forest was alive with activity; small creatures skittered through the undergrowth while bright-coloured birds flitted from branch to branch overhead. A cool breeze caressed my skin and rustled through the leaves of nearby trees as I walked along the path, breathing deeply of the damp woodland air.
Everywhere I looked, lush greens and browns reminded me that life was flourishing here in this small corner of the world.
Descriptive Paragraph Example 6:
The ancient ruins surrounded a vast desert, their sand-covered stones looking out over miles of wind-swept dunes. I walked through the crumbling archway and into the courtyard, taking in the eerie silence that pervaded the entire site.
The sun beat down from above, its rays glinting off broken columns and walls that told stories of a forgotten time. Here was evidence of an ancient civilization that had disappeared into history.
Descriptive Paragraph Example 7:
The decrepit old mansion stood atop a hill like a silent sentinel watching over the valley below. Tall windows stared blankly from the walls, their glass panes long since shattered. The grounds were overgrown with weeds and wildflowers, a testament to the fact that no one had set foot here in many years.
I stepped through the doorway and into what felt like an entirely different world- a place filled with secrets and stories waiting to be discovered.
Descriptive Paragraph Example 8:
The silver moon shone brightly against the night sky, its reflection glittering on the lake's still surface below. Fireflies sparkled around me like stars fallen from the heavens, their lights twinkling in tandem with those of distant galaxies.
Crickets chirped softly as they scuttled across my path while owls hooted in the distance. Everything felt peaceful and calm, as if time had stopped to admire this magical moment.
Descriptive Paragraph Example 9:
The beach was a tranquil paradise, soft white sand stretching out towards an endless blue horizon. The waves crashed gently against the shore, their foamy spray cooling my skin under the hot afternoon sun.
Seagulls hovered overhead, crying as they searched for food along the shoreline. Everywhere I looked, there was beauty; everything seemed perfect at that moment, from the towering palm trees to the sparkling sea below.
Descriptive Paragraph Example 10:
The snow-capped mountain peak rose majestically above me, its rocky sides glinting in the bright sunlight. I could feel the chill of the air around me and see my breath misting in front of me as I trudged up the steep path.
All was silent except for a few birds singing in the distance and the occasional avalanche tumbling down one of the nearby slopes. Everywhere I looked, there were breathtaking views and a sense of awe at being so close to such a powerful force of nature.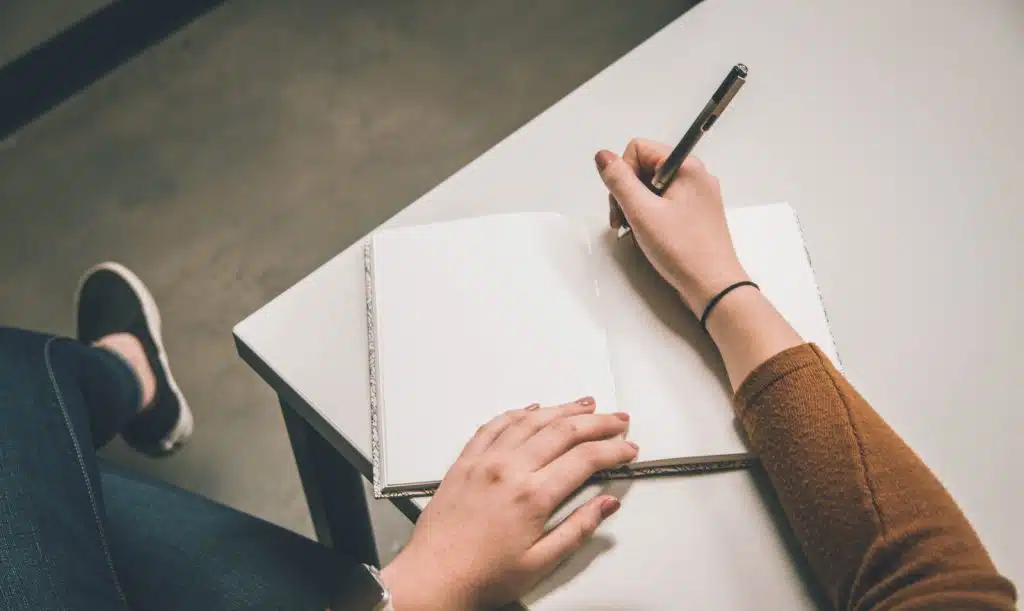 Descriptive Paragraph Example 11:
The sun was setting, painting the sky in vibrant shades of orange, pink and purple. The clouds were streaked with golden light, completing the brilliant spectacle that was taking place all around me.
I stopped to take it all in, feeling deep gratitude and awe at witnessing such a beautiful sight. All my worries seemed so far away at that moment; here, nothing else mattered but enjoying this fantastic view.
Descriptive Paragraph Example 12:
The dusty roads wound their way through the rolling hills of the countryside, lined by ancient trees whose roots had grown deep over centuries. Wildflowers flourished in splashes of colour against the backdrop of green fields and blue sky.
The air was sweet with the scent of fresh-cut hay and the buzzing of bees. There was a beauty that could only be found in nature, a timeless reminder of the power and magnificence of the world around us.
Descriptive Paragraph Example 13:
The city skyline glowed in all its glory against the night sky, its skyscrapers towering majestically above me. Cars whizzed by on crowded streets, neon signs flashing in their wake, while music drifted through the air from distant clubs and bars.
People bustled about their business with purpose and energy, carrying an infectious enthusiasm for life. Everywhere I looked, I saw evidence of progress and growth; it was a sight that reminded me just how vast and varied our world is.
Descriptive Paragraph Example 14:
The desert stretched out before me, a vast expanse of red sand and sun-bleached rocks. The heat was oppressive but calming, the warm breeze carrying an earthy scent. In the distance, I could see dust devils whirling across the dunes, throwing up clouds of golden sand in their wake.
It felt like a place stuck in time, where one could take refuge from the frenetic pace of modern life and find solace in nature.
Descriptive Paragraph Example 15:
The forest was alive with sound and colour; birdsong filled the air while shafts of sunlight pierced through the canopy above, dappling the ground below with splashes of gold.
The trees stood tall and proud, their leaves rustling in the gentle breeze. Everywhere I looked, there was evidence of life; from the scurrying squirrels to the buzzing insects, it seemed as if everything had been frozen in perfect harmony and balance. It was an enchanting sight that made me feel profoundly alive.
Descriptive Paragraph Example 16:
The lake shimmered in the afternoon light, its still waters reflecting the clouds above. The sun shone brightly in a deep blue sky, making everything around me seem alive and vibrant. I could feel the warmth of the sand beneath my feet as I walked along the beach, watching the waves lap against the shoreline.
Everywhere I looked, there was beauty; from the towering mountains on either side to the lush greenery that covered them, it was an idyllic setting that filled my heart with joy.
Descriptive Paragraph Example 17:
The stars twinkled in all their glory above me, casting an ethereal glow over everything below. I stood in awe, my eyes searching the night sky for constellations. The moon shone brightly, its pale light illuminating the darkness and giving everything an otherworldly feel.
It was a breathtaking sight that reminded me of the power and mystery of our universe. Here I could escape from my troubles and bask in the beauty of nature's grandeur.
Descriptive Paragraph Example 18:
The thunder roared as it rolled across the horizon, creating a rumbling sound that could be felt deep beneath my feet. Lightning crackled above, illuminating the sky with flashes of brilliant white light. The rain poured down in sheets, washing away all traces of dirt and dust from everything it touched.
This violent storm was both awe-inspiring and frightening in its intensity, a reminder of the unpredictability of nature. I felt as though I was witnessing something that could never be recreated; a moment of beauty and power that would stay with me forever.
Descriptive Paragraph Example 19:
The autumn air was crisp and clean, filled with the smell of fallen leaves and freshly cut wood. The last rays of sunlight cast an orange hue over everything, creating an ethereal atmosphere that seemed almost magical.
Everywhere I looked were vibrant red, gold, and orange shades as trees shed their leaves for the winter ahead. It was a beautiful sight that reminded me how quickly time passes and how we must cherish each moment before it slips away. It was a reminder of just how vast and varied our world is.
Descriptive Paragraph Example 20:
The snow fell softly from the sky, blanketing the world in a thick layer of white. Trees were covered in crystalline frost, and icicles hung from rooftops, their needles glistening in the pale moonlight.
Everything was still and silent; it felt like I was the only living soul for miles. With each breath, the cold air filled my lungs, and I savoured this moment of peace, so pure and untouched by modern life. This was nature at its finest, a reminder of how fragile our existence is.
If you want help with building suspense in your class writing, check out this article!
FAQ
1. What is descriptive language?
Descriptive language is a literary tool used by writers to paint vivid pictures in the reader's mind. It involves using adjectives, adverbs, metaphors, similes, and other figurative language to describe a scene, person, or situation in detail.
2. Why is descriptive language important in descriptive paragraphs?
The essence of a descriptive paragraph lies in its ability to create a clear and vivid image in the reader's mind. Descriptive language is instrumental in achieving this, as it adds depth, detail, and color to your writing, making it more engaging and relatable for your audience.
3. Can you give an example of descriptive language?
Absolutely! Consider this sentence: "The sun set over the ocean." Now, let's add some descriptive language: "The fiery sun slowly sank beneath the horizon, casting a golden glow over the tranquil, azure ocean."
4. How can I improve my use of descriptive language?
Practice makes perfect! Try to incorporate descriptive language into your everyday writing. Read widely to expose yourself to different styles of descriptive writing. Experiment with various literary devices such as metaphors, similes, and personification.
5. Does using more adjectives and adverbs make my writing more descriptive?
Not necessarily. While adjectives and adverbs play a key role in descriptive writing, it's essential to use them judiciously. Too many can make your writing seem overwrought and confusing. The goal should be clarity and precision.
6. How does descriptive language contribute to the tone of a paragraph?
Descriptive language can significantly influence the tone of a paragraph. For instance, using words like 'gloomy', 'dreary', or 'haunting' can create a dark or melancholic tone, while words like 'vibrant', 'lively', or 'sparkling' can evoke a more upbeat and positive tone.
7. Can descriptive language be used in all types of writing?
While descriptive language is most commonly associated with creative writing, it can be effectively used in almost all types of writing, including academic, business, and online content marketing, to engage readers and make the content more memorable.
Remember, mastering descriptive language is a journey. Keep practicing, keep experimenting, and most importantly, keep having fun with your words. After all, isn't that what writing is all about?